Post by dn on May 18, 2018 12:02:46 GMT -5
Got a slight mandrill infestation. It's barely worth mentioning because the fucking harpies and the ogres are a hundred times worse. The monkeys run through the front door to steal shit and - because the only way into the central staircase is through the military's training room - they are promptly blown right the fuck back out again.
THE LUNGFISH OF IMMORTALITY

The ogre wars continue. After our initial strategic failures re; wrestling, things have improved. We found obsidian (read: dragon glass) deep in the mountain and used it to make glass swords.
Fucking things are
sharp
. There are bits and pieces of ogre splattered everywhere. So far we've killed eleven of the fuckers; I don't think the biome can support much more than that, so a species-wide genocide looks imminent.
It continues to piss elf blood from the sky. The dwarves are really hurting, the constant harassment of harpies every time they go outside has left us with a lot of walking wounded. Hospital *was* able to cope with the injured, at least until our bone doctor went outside to pick up a stray xx<-pigtail sock->xx and got Ogred to death.
Our new chief medical dwarf used to be a cheese maker. Fucker knows a lot about cheese, less about encouraging bones to knit / remembering to feed the patients. Fortunately, the poor dwarfs subjected to his tender care died of dehydration before they could starve to death.
We also had a visitor last night.

Not as bad as the last time tbh, because this one doesn't breathe fire. It can, however, fly.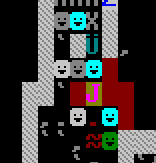 The military leap into action, cornering the fucking giant poisonous budgie and proceed to hack it to death with DRAGONGLASS FUCK YEAH.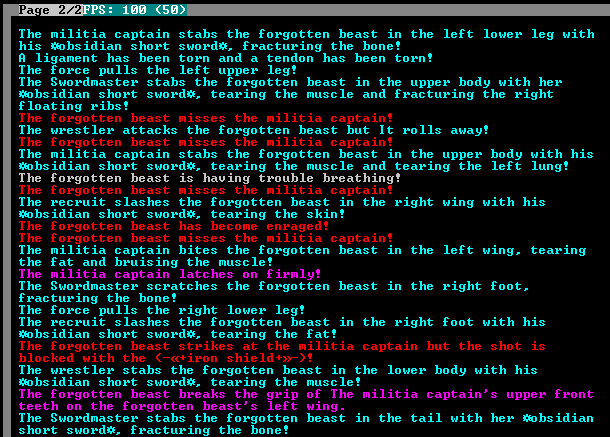 Captain Bitey needs no sword and decides to bite the fucking thing to death. Seeing as how it's poisonous, I suspect that Promotions will feature in the near future for some other lucky military dorf.

Someone didn't get the memo about wrestling being a piss poor tactic against something twenty times your size. Enjoy your colostomy bag in whatever passes for Dorf Heaven, you dumb gutless fuck.
Dorf victory! Fuck off back to hell you dead cunt.